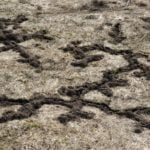 If you're noticing strange trail systems in your grass, you may have voles. If so, our vole removal program is your solution to these pesky lawn rodents. Knowing how to get rid of voles in your yard though, is no easy task.
What Is a Vole?
Commonly mistaken for other small animals, a vole is a small rodent resembling a mouse but with a stouter body, shorter hairier tail, slightly rounder head, smaller ears and eyes, and differently formed molars. There are approximately 155 species of voles in the United States. Voles are sometimes confused with moles, gophers, mice, and rats.
When Are Voles Most Active?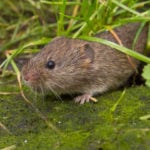 Voles are active day and night and do not hibernate. They construct either many surface runways or shallow tunnels (depending on the species) in dense grass with numerous burrow entrances. In the winter, they are active under the snow.
Their peak breeding activity occurs between March and October, but voles may breed all year long when winters are mild. A female vole could potentially produce over 70 young in a year.
Vole Damage To Lawn Varies
Voles damage happens when voles start moving through your turf and creating pathways through your lawn. They're typically called vole runways. This kind of damage is most noticeable in early spring after the snow has melted.

Other types of vole damage include:
1. Lawn Damage: Often, voles will burrow underneath the snow during the winter, foraging for sustenance or traveling. Since there is a significant amount of time for them to travel under the snow through the thatch layer, they can create large amounts of damage with the grass dormant and unable to recover. But you won't notice it until all of the snow has melted.
2. Tree Damage: Voles can also cause damage to trees by gnawing the bark along the root collar. Plants and shrubs are also targeted.
3. Surface Damage: Though vole damage is more significant in spring, it can still be noticed and occur throughout the growing season. People often confuse this above surface trail creating with mole tunneling, however, all species of moles tunnel under the surface and not above it.
If you do notice vole damage, you shouldn't wait to do something about it.
Vole Control Is Not Easy
Voles like living in mulch, leaf and grass piles, and tall ground covers, so avoid mulching near trees and always make sure you're raking your leaves and grass clippings to keep them away.

If it's too late, one way to repel voles is by using castor oil-based repellents.

They'll penetrate the ground and give ground vegetation an odor and taste that disagrees with voles. This will force them to find a food source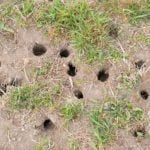 elsewhere. It essentially acts as a vole repellent.
You can also try burying wire mesh to form a barrier around your yard (or garden). But this can be a rather labor-intensive task.
Contact Lush Lawn To Get Rid Of Voles
If you notice under the surface damage to your property, you may have a vole infestation on your hands. You'll need a plan to control the vole population in your yard. The good news is that our

vole control services

are highly recommended.

Vole control starts with an integrated pest management plan. Our technicians will apply a series of bait injections that mimic the rodent's natural food source. They'll place bait every 8 to 10 feet inside tunnels that show signs of activity. The mole will perish upon eating the bait, leaving it to decompose underground. This will be guaranteed to keep moles out of your lawn throughout the course of the year.

If you are interested in our mole control program, please contact your closest Lush Lawn branch for more information. Treatment for voles should begin in the fall months. Our technician will identify locations where it is likely that vole activity will occur during the winter months. We will place bait stations in those areas for the voles to find and they will continue to frequent this area in the winter. Our bait stations are secured to prevent larger animals such as squirrels and chipmunks, or your pets from getting to the bait.
Lush Lawn Proudly Serves:
Grand Blanc Lawn Service
and the surrounding areas: Burton, Davison, Fenton, Flint, Flushing, Linden, Swartz Creek, Holly and more.

Rochester Hills Lawn Service and the surrounding areas: Auburn Hills, Berkley, Birmingham, Bloomfield Hills, Clarkston, Clawson, Detroit, Farmington, Farmington Hills, Hunting Woods, Keego Harbor, Madison Heights, Oak Park, Pleasant Ridge, Pontiac, Rochester, Royal Oak, Southfield, Troy and more.
Brighton Lawn Service and the surrounding areas: Ann Arbor, South Lyon, Canton, Northville, Plymouth, Livonia, Pinckney and more.
Saginaw Lawn Service and the surrounding areas: Clio, Birch Run, Frankenmuth, Bay City, Midland, and more.
Canton Lawn Service, including Westland, Wayne, Romulus, Livonia, Garden City, Ypsilanti, Inkster, Dearborn Heights, Redford, Novi, Taylor, Farmington, Ann Arbor, South Lyon, Allen Park, Detroit, Grosse Pointe and more.