Fall Lawn Care and Restoration
Fall lawn care in Michigan is critical. Even if it is warm and sunny now, it won't be long before temperatures begin to drop. Is your lawn ready? With fall just around the corner, now is the time to think about preparing your grass for the winter months. If your yard could use some attention, our professional lawn repair team can repair it before winter sets in. You can have a beautiful landscape next season!
Is Your Lawn Ready for Next Season?
Lush Lawn is unique among lawn restoration companies in that it has created a Fall Lawn Care and Restoration program designed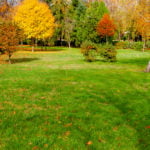 to build up your grass so it will come back stronger than ever next spring. Our lawn care program provides a comprehensive 7-step package that takes care of everything from fertilizing to aeration, winterizing, and much more.
Why is Lawn Winterizer Important?
In Southeast Michigan, all lawns contain cool-season grasses, such as fescues, bluegrasses, ryegrasses, and bentgrasses. Because of the cool-season grasses, it is vital to have a fall winterizer applied before the temperature drops. Cool-season grasses grow differently than warm-season grasses as the majority of their nutrients are actually pulled in during the fall months to help balance out any stress they may have come under during the summer months, as well as prepare for the winter months. This is why fall winterization and fertilizer are so important in our area. If your turf has a history of struggling to stay green or you are concerned with the health and appearance of your property, the Fall Restoration program is exactly what would help. Our lawn care experts have created a comprehensive multi-step program that is specifically designed to improve the health of your soil and grass now while prepping it to rebound faster and stronger the following season. Knock out weeds even before they surface next season, aerate your turf for better distribution of fertilizer in your soil, and reinforce your grass with the important nutrients it needs to be green when the weather gets warm again.
Professional Lawn Restoration Companies
Lawn repair or lawn restoration heals your landscape if it has been affected by pests or disease, instead, strengthening its foundational roots. Our repair experts quickly diagnose problem areas on your lawn, create a plan of action, and then implement that plan for you. Whether you have patches that need to be filled in by planting an extra layer of grass seed or treated for deficiencies, we are ready to help.
What is Included in the Fall Lawn Restoration Program?
Lush Lawn takes lawn care seriously, which is why unlike other lawn restoration companies we have used our expertise to create a lawn restoration and winterizer program that will protect and nourish your grass through every season. The Lush Lawn Fall Restoration package contains the following services:
Two applications of slow-release fertilizer – Lush Lawn's fertilizer applications are specifically formulated to extend the life of your grass by slowly introducing the proper nutrients into the soil. This means that when fertilized, your grass won't suffer from burns caused by too much fertilizer or have an uneven amount distributed.
Two applications of weed control – With Lush Lawn's weed control services, you won't have to worry about weeds popping up in the spring. Lush Lawn technicians will apply blanket weed control over the entire lawn to control actively growing weeds, and then will follow up with spot weed control for those hard-to-control weeds.
Aeration – Get more out of your grass with the lawn aeration service provided by Lush Lawn. Aeration reduces soil compaction and allows for vital nutrients and applications to reach your lawn's roots. Aeration makes your lawn stronger and greener.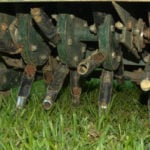 While we recommend using an aerator, we don't recommend power raking to remove thatch as that can damage the grass roots.
Overseeding – Replenish your turf by laying down more seeds. As part of lawn restoration, overseeding is necessary to add new growth or to fill in patches.
Winterizer application – This treatment prepares your lawn for the coming cold weather by supplying specific nutrients that sustain dormant grasses through winter. Get a head start on next spring with this application.

Is Your Lawn Ready for Next Season?
Get ahead of next season by taking advantage of the Fall Restoration package from the experts at Lush Lawn. We will provide everything your grass needs to be healthy and green, all you need is a quick phone call and a FREE estimate! Contact our team and get started today.