It's very important to know when to fertilize lawns in Michigan. That's because a proper lawn fertilizer schedule will provide your turf with the right amount of nutrients it needs to thrive—no matter what time of year it is.
We offer a 7-step lawn fertilization plan that benefits your lawn in two ways:
Our applications are carefully designed to give your Southeast Michigan lawn the right amount of nutrients at the perfect time. And o
ur fertilizer also provides weed control.
But timing is everything and Lush Lawn has it down to a science. So, let's break down our step-by-step lawn fertilization program.
Lawn Fertilizer Schedule: Michigan
ROUND 1 - EARLY SPRING
Our March/April application features an all-granular time-released lawn fertilizer.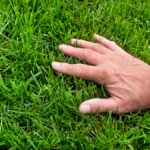 It infuses your soil and root system with vital nutrients to help your lawn recover from dormancy at maximum health
.
This application may contain a liquid pre-emergent to control crabgrass, along with blanket
weed control,
depending on the temperature and date of application.
ROUND 2 - LATE SPRING
This fertilization treatment is applied in late April/May. It contains a nitrogen-rich all-granular fertilizer, liquid pre-emergent, and liquid blanket weed control that will:
Ensures your ​grass won't run out of essential nutrients during a time of explosive growth.
Remove any newly germinated weeds throughout the property.
Help prevent germination and growth of crabgrass and other seed-borne weeds later in the season. Note that the pre-emergent may have been applied during Round 1 depending on soil conditions and the date of the first application.
ROUND 3 - EARLY SUMMER
This application will be applied in June. It will give your lawn that deep green color. It's all-granular, time-released lawn fertilizer and spot weed control.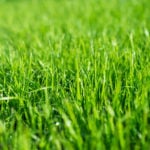 The goal is to reintroduce nutrients to maintain healthy growth as the seasons move from spring to summer. It also provides our technician an opportunity to treat the remaining weeds and diagnose any issues that may be present in your lawn.
ROUND 4 - MID-SUMMER
In July we'll re-introduce nutrients to your lawn. This application maintains healthy growth during the hottest summer months. It continues a time-released, all granular fertilizer and spot weed control.
Our technician will also treat any remaining weeds while on site.
ROUND 5 - LATE SUMMER
We'll put our late-summer application down in August. It re-introduces even more nutrients to maintain healthy growth as summer ends.
ROUND 6 - EARLY FALL
In the fall we're thinking about stimulating root growth and adding a blanket of weed control. So, in September we apply a time-released, all granular fertilizer that features a robust infusion of nutrients.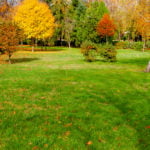 This helps maintain healthy growth throughout the fall growing season.

Your technician will also make sure there aren't any undiagnosed issues present in your ​turf.
ROUND 7 - LATE FALL
The final lawn care treatment is done in October. It's an all-granular fertilizer that contains a blend of macronutrients to get your lawn ready for winter.
Our winterizer also helps reduce the chances of snow mold developing in the spring.
Contact Lush Lawn Today
Lush Lawn's fertilizer schedule is second to none. And we provide a variety of additional
lawn care services
that will keep your entire yard healthy.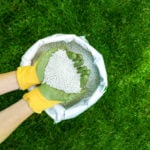 We won't be happy until you have a ​yard that's lush, green, and weed-free! Please contact the Lush Lawn branch in your area to start a fertilizer application schedule today.



Grand Blanc Lawn Service and the surrounding areas: Burton, Davison, Fenton, Flint, Flushing, Linden, Swartz Creek, Holly and more.
Waterford Lawn Service and the surrounding areas: White Lake, Commerce Township, Pontiac, Auburn Hills, Highland, Lake Angelius, Sylvan Lake, Orchard Lake and more.
Canton Lawn Service and the surrounding areas: Livonia, Westland, Plymouth, Northville, Farmington Hills.
Rochester Hills Lawn Service and the surrounding areas: Berkley, Birmingham, Bloomfield Hills, Clarkston, Clawson, Detroit, Farmington, Farmington Hills, Hunting Woods, Madison Heights, Oak Park, Pleasant Ridge, Rochester, Royal Oak, Southfield, and Troy.
Brighton Lawn Service and the surrounding areas: Ann Arbor, South Lyon, Canton, Northville, Plymouth, Livonia, Pinckney and more.
Saginaw Lawn Service and the surrounding areas: Clio, Birch Run, Frankenmuth, Bay City, Midland and more.