The state of Michigan is known for both its heavy amount of forest coverage as well as its heavy snowfall in the winter months. While these two factors add to the scenic beauty of the area, they also contribute to the reason why moles are a prevalent pest problem. Moles feed on grubs and earthworms — both of which tend to congregate in soil near a large number of trees — and snow that accumulates in winter provides them with extra warmth and protection from the cold.
While moles may be small rodents, the damage they can cause to Michigan lawns is significant, from an unsightly appearance to plant distress below the surface. That's why it's critical to take action when you spot mole activity and connect with Lush Lawn & Safari Tree for effective lawn mole control.
How Can You Tell If You Have Moles in Your Lawn?
A Mole Sighting
Even though moles spend most of their time underground, it's possible to catch sight of one in your yard. Commonly mistaken for other small animals (like mice, for instance), moles are marked by a few distinct features: a stouter body, a shorter and hairer tail, slightly rounder eyes and smaller eyes and ears.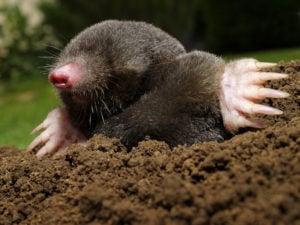 Molehills
You've probably heard this phrase before: "Don't make a mountain out of a molehill." While these volcano-like mounds of soil may be small compared to mountains (hence, the popular phrase), they are a tell-tale sign of problematic mole activity in your lawn. Moles create these mounds when they push the dirt around as they enter and exit the soil in search of food underground.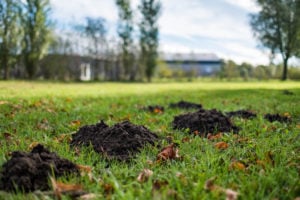 Surface Tunnels
To reach earthworms and grubs, moles dig tunnels through the soil that act as passageways. This activity can unintentionally disturb plant roots, uprooting them from the soil and causing them to die out, as well as soften the ground and thus increase the chance for injuries. While some tunnels are dug several inches underground, many occur right under the soil's surface. These tunnels look like small ridges on your lawn and feel soft and spongy beneath your feet.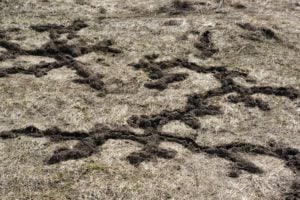 Note: While the damage moles cause to lawns is most noticeable in the early spring (after the snow has melted), it is still noticeable and can occur throughout the summer and fall as well.
Our Approach to Lawn Mole Control
If you see moles in your Michigan lawn or lawn damage as a result of these rodents, we highly recommend our mole control services. While moles can sometimes be stubborn to remove from lawns, Lush Lawn & Safari Tree has created a program designed to ensure successful results.
Our mole control program consists of four phases, the combination of which are guaranteed to keep moles out of your lawn throughout the course of the year:
Our technicians apply a series of bait injections that mimic a mole's natural food source, placing the bait every 8 to 10 feet within mole tunnels that show signs of activity.
The mole will perish upon eating the bait, leaving it to decompose underground.
When taking advantage of the complete lawn mole control program, technicians will space the treatments out a minimum of 45 days apart — providing effective coverage throughout the year. To ensure total satisfaction, our technicians will come out between treatments as needed.
If you'd prefer to choose individual applications over the full program, we can accommodate that as well. Please note that we offer a 45-day guarantee on individual applications.
(In addition to our mole control services, we also offer vole control services as well.)
Why Grub Control Doesn't Equal Mole Control
One of the common misconceptions when dealing with moles is that removing grubs will remove the moles. However, it's important to remember that moles feed on a variety of insects, not just grubs. In fact, their main source of food is actually earthworms. Because of this, removing grubs will not necessarily get rid of moles, and having moles doesn't necessarily indicate the presence of grubs.
If your main concern is grubs, Lush Lawn & Safari Tree offers grub control solutions to help curb this lawn issue and prevent further damage.
Things to Keep in Mind After Our Mole Control Treatments
Do not flatten or disturb the mole tunnels for at least 10-14 days after application. Since it is necessary for moles to revisit those active tunnels, interfering with them will likely render the application ineffective. After the 10-14 day period is over, it is best to flatten the tunnels in order to keep an eye out for any new activity.
Bait is placed in the tunnel below the lawn surface. This makes it unlikely that small children or pets will be exposed to the bait.
The presence of moles in your turf is not an indication of the presence of grubs or that a grub control product has been ineffective. Grub control will not deter moles from your turf, as the two are not mutually exclusive.
Interested in Our Mole Control Program? Contact Your Closest Lush Lawn Branch for More Information.
Grand Blanc Lawn Service and the surrounding areas: Burton, Davison, Fenton, Flint, Flushing, Linden, Swartz Creek, Holly and more.
Waterford Lawn Service and the surrounding areas: White Lake, Commerce Township, Pontiac, Auburn Hills, Highland, Lake Angelius, Sylvan Lake, Orchard Lake and more.
Canton Lawn Service and the surrounding areas: Livonia, Westland, Plymouth, Northville, Farmington Hills.
Rochester Hills Lawn Service and the surrounding areas: Berkley, Birmingham, Bloomfield Hills, Clarkston, Clawson, Detroit, Farmington, Farmington Hills, Hunting Woods, Madison Heights, Oak Park, Pleasant Ridge, Rochester, Royal Oak, Southfield, and Troy.
Brighton Lawn Service and the surrounding areas: Ann Arbor, South Lyon, Canton, Northville, Plymouth, Livonia, Pinckney and more.
Saginaw Lawn Service and the surrounding areas: Clio, Birch Run, Frankenmuth, Bay City, Midland and more.