H2 Are you tired of fighting to keep weeds out of your lawn?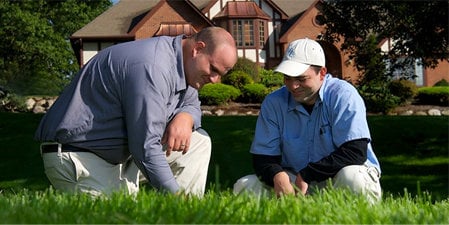 H4 THE SERVICES OUR SE MICHIGAN WEED CONTROL COMPANY PROVIDES ARE ESSENTIAL TO ANY SUCCESSFUL LAWN CARE PROGRAM
Looking for "weed control services near me"? Weeds compete with turf grasses for valuable nutrients. This weakens your turf and thins your lawn. By treating for weeds and removing them from your lawn, you will be absolutely sure that beneficial nutrients are consumed Hyperlink Text Example
Besides being an immediate threat to your lawn, weeds are an eyesore that is difficult to control. Lush Lawn is a weed control company committed to getting rid of every last weed on your property, protecting your grass and saving you from constant weeding. Lush Lawn offers a comprehensive 7-Step Program that effectively gets rid of weeds and keep infestation under control in the treated area.
H3 Weed Control Program Description:
H4 WEED CONTROL SERVICES (AS PART OF OUR 7 STEP LAWN CARE PROGRAM)
Weed Control services are one of the main components of our lawn care program. It's included with the price of your lawn fertilization applications. Our weed control process includes blanket applications of liquid weed control application in the spring and the fall. It also includes spot treating for any remaining weeds while your technician is out to fertilize throughout the season. Our weed control company guarantees FREE service calls to retreat for weeds between applications anytime throughout the season for programs that have at least five applications scheduled.
H4 WEED CONTROL (AS PART OF OUR WEED CONTROL ONLY PROGRAM)
Some of our SE Michigan customers aren't interested in fertilization but are still interested in removing weeds from their yard. That's why we developed our residential weed control only program. This is a standalone program featuring 3 herbicide applications throughout the season. Hyperlink Text Example We guarantee results on our full three-step program by providing FREE service calls in between visits anytime throughout the season.
Lush Lawn is a lawn care and weed control company that is guaranteed to take care of all broadleaf weeds. This also includes extremely difficult to remove weeds such as dandelions, ground ivy, wild violets, Canadian thistle, nutsedge and many more.
H4 HERE IS A LIST OF SOME OF THE COMMON WEEDS THAT INVADE SE MICHIGAN LAWNS:
Clover
Poison Oak
Spurge
Purslane
Henbit
Yellow rocket
Wild plantain
Clover
Poison Oak
Spurge
Purslane
Henbit
Yellow rocket
Wild plantain
Clover
Poison Oak
Spurge
Purslane
Henbit
Yellow rocket
Wild plantain