Necrotic ring spot is one of the most pervasive and damaging diseases your lawn can face. It is essential that you watch out for the symptoms of this disease and take decisive action whenever you notice them. Only by protecting your lawn diligently can you control ring spot and protect your grass.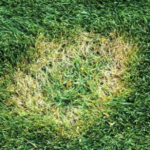 Necrotic ring spot occurs in the cool regions of the world where Kentucky bluegrass (a primary host) is grown. The pathogen is active in the cool weather of the spring and fall, even though symptoms are seen in the warm weather of the summer. The fungus is thought to move among the turf stand by growing along the surface of roots and rhizomes.

So, let's learn about the necrotic ring spot fungus, what causes it, what it can do your grass, and most importantly, what you can do to treat it, or keep it from ever happening to your lawn.
What Is Necrotic Ring Spot?
Necrotic ring spot is a disease caused by the fungus Ophiosphaerella korrae. This lawn fungus spreads through the soil and colonizes the roots of plants. Over time, it eats away at those roots and deprives the plants of moisture and nutrients, causing them to weaken and die. The fungus thrives at temperatures between 65 and 80 degrees Fahrenheit and can occupy the same patches of your lawn for years at a time.

Necrotic ring spot is named after the large rings of dead or weakened grass that it produces, which can be anywhere from a few inches to several feet in diameter. These rings are yellow, tan, or brown in color, and often look like a donut or the eye of a frog. The longer they are allowed to fester, the more likely it is that the grass inside them will die. Ring spots tend to be most severe in shady parts of your yard, especially if there is a large amount of thatch in the soil.
How To Identify Ring Spot
Besides the rings, you can identify symptoms of this disease by cutting sod patches out of the ground and using a hand lens to examine them. If the fungus is present, it will leave dark threads running along the surface of the root. This method is useful if you're having trouble telling the difference between ring spot disease and other issues that cause turfgrass to become discolored.

Because necrotic ring spot thrives under certain temperatures, it tends to die down after September, and your grass may recover in the final months of the year. But the disease will still be there in a dormant state and will attack your grass again once the warm weather returns. If you don't get a handle on it soon, it will cause severe damage to the roots and crowns of your grass, making recovery harder and harder as time goes by. It is thus critical that you take action as soon as possible after you find symptoms of necrotic ring spot.
Necrotic Ring Spot Treatments
There are three main methods for treating necrotic ring spot outbreaks, each suited to different levels of severity:
Physical Removal:

For disease outbreaks that are limited to a particular part of your yard, you can get rid of the disease by physically removing the affected grass. Dig down to a depth of at least 6 inches and remove all the grass and soil that the fungus has spread to. You should then dispose of what you've taken out in an isolated area and wash the shovel immediately.
Sulfur Amendments:

You can mitigate necrotic ring spot by adding sulfur to the grass, administering it either as elemental sulfur or as part of the fertilizer. The more severe the disease is, the higher the concentration of sulfur you'll need to administer. Once you've spread it over the lawn, you need to water it in so that it does not damage the leaves.
Fungicides:

For the most severe infections, you may need to kill the disease with a fungicide. It's usually necessary to apply fungicides at least once every two weeks during a season. Typically, you'll need a professional to administer them.


Besides treating the disease, you can lower the likelihood of an outbreak in the first place through proper lawn care. By dethatching and aerating your lawn on a regular basis, you make it harder for the fungus to spread. It's also important to water, mow, and fertilize your lawn sufficiently, but not excessively; too much water or fertilizer containing nitrogen helps the disease grow. You should also avoid watering your lawn at night.

Lush Lawn Necrotic Ring Spot Treatment Programs

Healthy, lush grass adds color and character to any home. From Kentucky Bluegrass, to Tall Fescue, Perennial Rye, and Bentgrass, there are many options for lawns in Southeast Michigan. But just because this grass is beautiful doesn't mean it's immune to lawn care issues.


As we mentioned earlier, Kentucky Bluegrass is a primary host for ring spot and other lawn diseases. Lush Lawn professional lawn care takes a holistic approach to treating necrotic ring spot. When you request our assistance, we determine the severity of the infection and then decide whether removal, sulfur, or fungicide is the most effective way to deal with it. We offer many treatment and prevention options that will keep your lawn thriving.


We also provide aeration, dethatching, and other lawn control services to keep the odds of an outbreak to a minimum. Taking advantage of our lawn care services will also keep your lawn healthy year-round. Contact Lush Lawn today for a free estimate on safeguarding your lawn from necrotic ring spot.
Grand Blanc Lawn Service and the surrounding areas: Burton, Davison, Fenton, Flint, Flushing, Linden, Swartz Creek, Holly and more.
Waterford Lawn Service and the surrounding areas: White Lake, Commerce Township, Pontiac, Auburn Hills, Highland, Lake Angelius, Sylvan Lake, Orchard Lake and more.
Canton Lawn Service and the surrounding areas: Livonia, Westland, Plymouth, Northville, Farmington Hills.
Rochester Hills Lawn Service and the surrounding areas: Berkley, Birmingham, Bloomfield Hills, Clarkston, Clawson, Detroit, Farmington, Farmington Hills, Hunting Woods, Madison Heights, Oak Park, Pleasant Ridge, Rochester, Royal Oak, Southfield, and Troy.
Brighton Lawn Service and the surrounding areas: Ann Arbor, South Lyon, Canton, Northville, Plymouth, Livonia, Pinckney and more.
Saginaw Lawn Service and the surrounding areas: Clio, Birch Run, Frankenmuth, Bay City, Midland and more.